Melissa de Tirinhas and The Glorious Dancing Days
Have you had the chance of dancing and enjoy life using Melissa de Tirinhas (Straps) or Melissa de Furinhos (Perforated) ones?
All the girls in my neighborhood at that time had a pair of Melissa, and use them with multicolor socks, lurex, glitter, etc. They use for Daily and Night activities, the Sandals were everywhere, at schools, picnics, Sunday parties, or Saturday Night Dancing.
Melissa has taken the Girls of that decade by storm, with Sandals and Shoes Perfectly Designed for the '80s Girls Revolution. All those bright colors, Transparencies, Glitters, Jelly, and so on have been part of the Daily and Night Life.
Grendene, the Company behind this amazing success, has developed not only a Unique Product but also has developed a great Marketing Plan launching Melissa at The Soap Opera Dancing Days with Sonia Braga (Júlia, the protagonist) promoting Melissa Sandals. Bingo, instant Success for both, The Soap Opera, and the Shoe Brand!
Melissa is a footwear brand created in 1979 by the Brazilian company Grendene, initially produced in an industrial plant in the Rio Grande do Sul.
The first model, Melissa Aranha (Melissa Spider as the vamp looks like a spider), was created by businessman Pedro Grendene Bartelle, inspired by the strap sandals used by French Riviera fishermen. This unique style was popularly known as the Melissa de Tirinhas (Melissa of Little Straps). In the last decade alone, Melissa has manufactured more than 32 million pairs and today it is sold in more than 70 countries.
Melissa –  a Young Brand with Four Decades of Success in the Footwear Market
Well, after four decades Melissa is still a fresh, young, and strong brand in Brazil and its product line was expanded to several other styles, colors, shapes, etc. According to Grendene, and as we can see in shoe stores in Brazil, many aspects of this product line have evolved, like Materials, Technologies, Sustainability, Anatomy, Fitting, etc. Those are the reasons why Melissa is a truly Fresh Brand with 40 Years of experience. What company wouldn't like to have such a similar brand and product situation and singularity?
Well, let's take a closer look at the Melissa Aranha (Aranha = Spider), or as it is better known in the market, Melissa de Tirinhas, and check all the current futures and technologies embedded in this UpToDate Product Line.
Melflex – The Secret Ingredient of Melissa's PVC Formulation
According to the web survey I did Grendene, seeking to improve the comfort, beauty, and durability of its shoes, the company invested in technology and decided that it would no longer use conventional plastic as a raw material. This common plastic was considered awfully hard, not resistant enough, and not very malleable. It still had the unpleasant effects of causing burns depending on how it rubbed with the foot and generating excessive heat that caused unpleasant sweating in the foot. After much research and testing, Melflex came into being.
According to the survey Melflex is made out of PVC, and due to its chemical composition, Melflex is today the best flexible thermoformable material in the world. Thanks to this incredible molding capacity, shoe styles with the more sophisticated designs were able to leave the paper. Models like Vivienne Westwood's Rocking Horse or the acclaimed model designed by architect Zaha Hadid, an object of desire for many who work with design, are often exposed as an object of decoration and art. These are considered two of the most difficult models to manufacture and only exist thanks to Melflex.
Melflex is 100% Recyclable
It does not have any toxic components, either in its raw material or in the manufacturing process, therefore, it does not generate toxic waste that is normally thrown into the environment. In addition, 99% of the material used to create Melissa is recycled at the factory. Even an old Melissa can be recycled, you just need to send it back to Grendene. And as if all this were not enough, as it is the best thermoformable material in the world, it also consumes less energy in its production. In short, Melflex makes Melissa a good product for you and good for the planet!
Once again, André Santos' Artwork has captured the essence, and the spirit of Melissa reproducing the memorable Melissa Spider Square (Melissa Aranha Quadrada). His art shows how powerful can Footwear and its style be branded in our memories and hearts.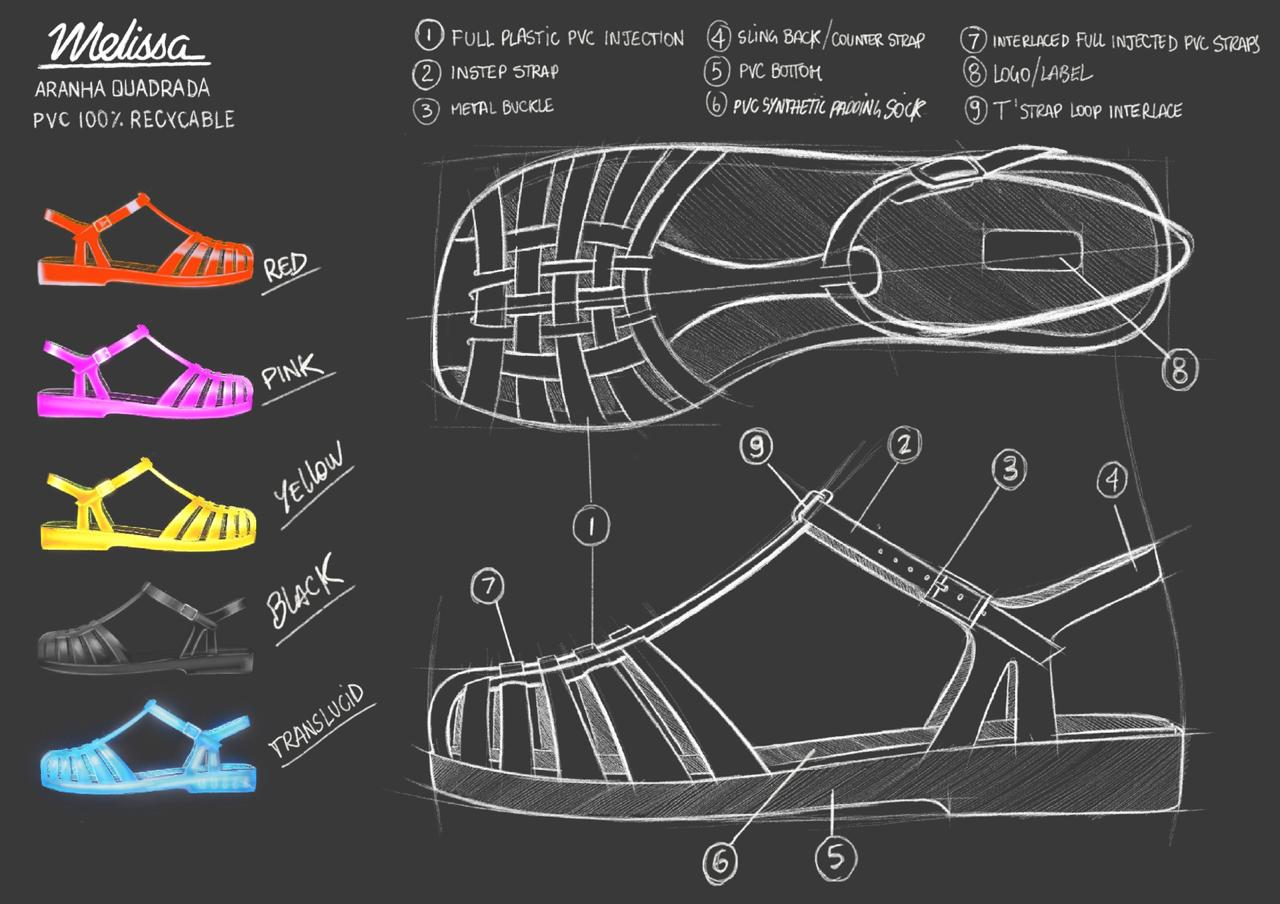 Interesting Facts About Melissa Aranha Quadrada (Melissa Spider Square)
A true Melissa icon, the Spider TAKES 26 SECONDS to be made. By the way, Grendene has 11 factories, more than 50 brands, and more than 20 thousand employees. That shows how relevant is the Footwear Industry in Brazil and around the world.
Melissa is art, fashion, and design. But it is also SUSTAINABILITY. It is a cruelty-free product. And 100% recyclable. Thanks to Melflex®, a proprietary form of PVC that still provides flexibility, comfort, and resistance to each pair of Melissa.
Melissa was the first Brazilian brand to do Merchandising in a Soap Opera. To the sound of As Frenéticas and at the feet of Júlia (Sônia Braga), Grendene immortalized the combination Melissa + Lurex Sock, a classic from the 70s.
Melissa Perfume becomes a reality in partnership with Maison Givaudan, one of the biggest names in perfumery in the world. With a limited edition, the fragrance was launched in celebration of our 30 years, bringing a sweet and fruity smell that resembles our plastic.
Melissa's Glossary
Additionally, to what Andre Santos has detailed about Melissa Aranha Quadrada in the picture above I will reproduce below a few of Melissa's Glossary according to Grendene's Website as I found it remarkably interesting and informative at the same time for us Footwear Lovers.
3DB Stamping Process – Grendene's exclusive technology, is the process that makes it possible to stamp the surface of Melissa's various products (e.g. picture below).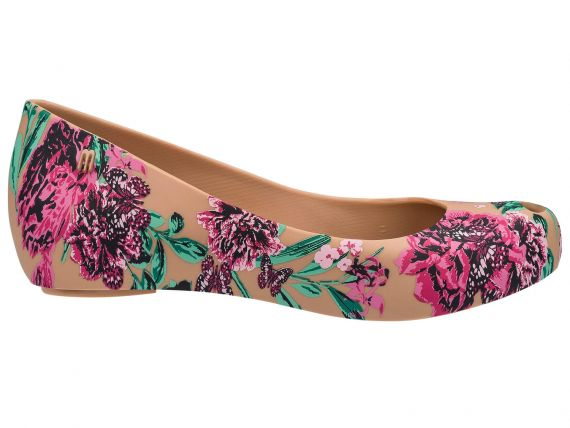 Coverline – Synthetic Fabric used as raw material for making the insoles of the products.
Flocking – Finishing that provides a velvety cover or glitter cover to Melissa's Products.
Jelly – Term in English that designates sandals made of transparent PVC, similar in appearance to gelatin (e.g. picture below).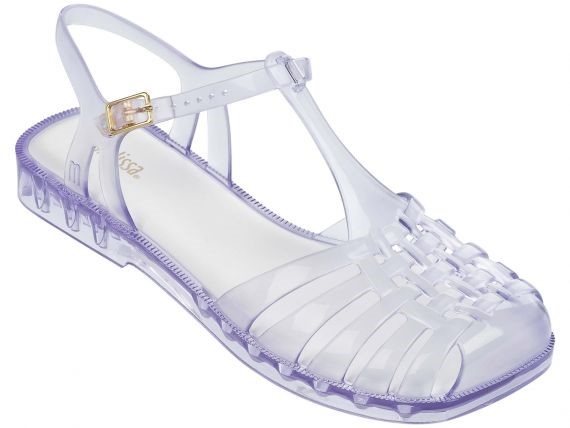 Melflex – It is Melissa's exclusive formulation PVC, which makes sandals softer, more comfortable, and flexible. For e.g. Melflex made possible the extraordinarily successful collab in 2010 between Melissa and Zaha Hadid adapting the world of architecture to the world of footwear as shown in the picture below.
The Legacy of Melissa to the Footwear Industry
I hope that you have liked this article about the Legacy of Melissa to the Footwear Market, as much as the last 40 decades of fashion being part of the daily life of millions of girls' dreams.
Andre Santos and I will continuously be working in collaboration to help you to visit the good old and glorious days.