Footwear Innovation means Materials and Compounds Evolution, Invention, and Sustainability, I think we all agree with that, right?
Due to the fact that Materials and Compounds are a MUST to boost and enable innovation, creativity, new product lines, and performance, in this article we are going to start focusing on the most used materials in each of the main areas of Sports Shoes.
Let's take a look into it dividing this topic into two sections: Upper and Outsole & Midsoles Materials
This way we have a chance to understand better how each shoe part is composed and how they are related to each other.
UPPER MATERIALS
1- PU LAMINATE OR POLYURETHANE LAMINATE
2- PVC LAMINATE
3- TPU LAMINATE
4- FABRIC
5- NONWOVEN
6- MESH
7- LEATHER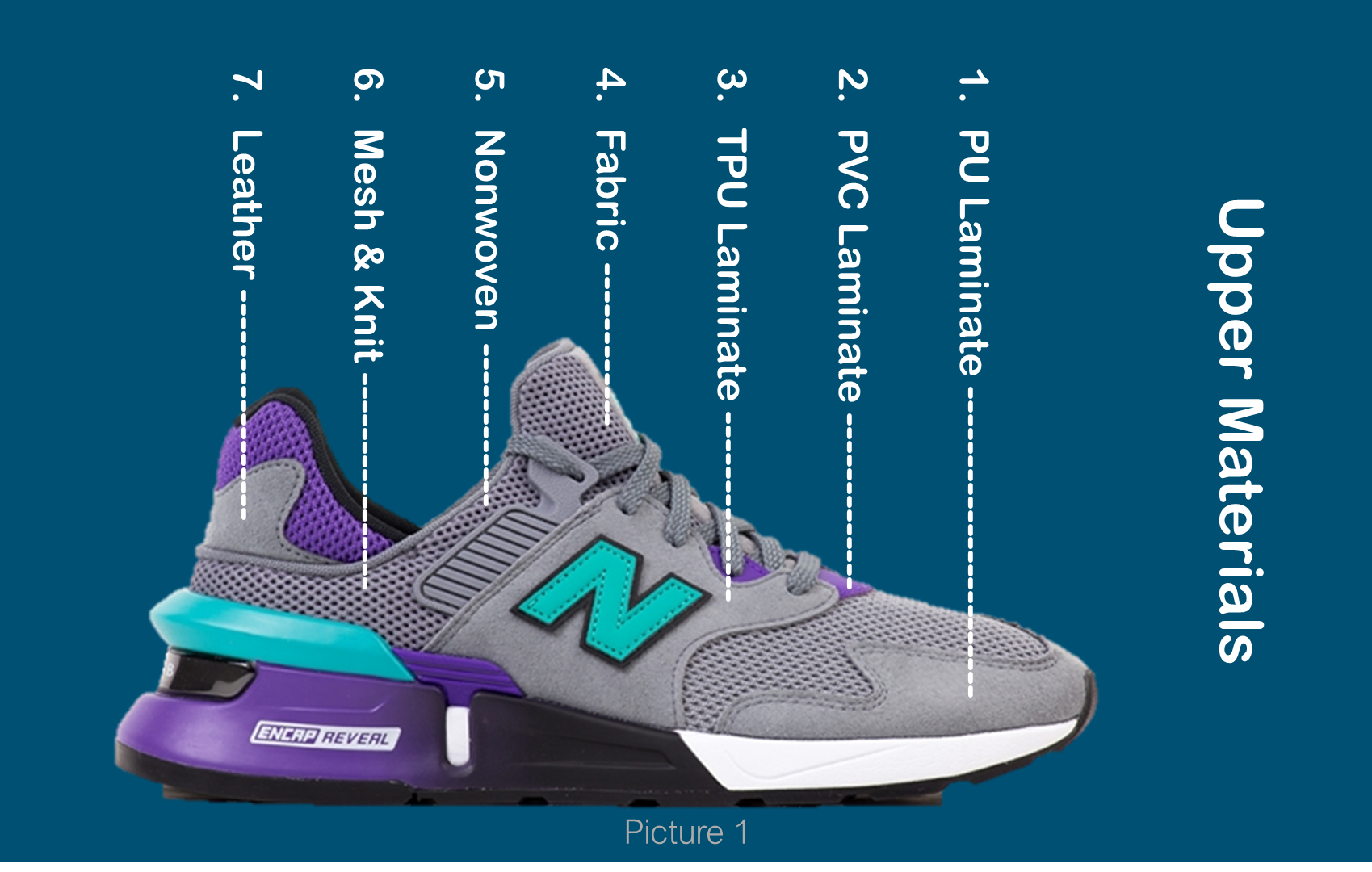 1- PU Laminate or Polyurethane Laminate (PU is the acronym for Polyurethane)
Application: virtually, in all pieces and upper parts of sports shoes.
Curiosities: due to the higher cost, it tends to be used for High-end Products.
High-end Products = High Quality or More Sophisticated Products.
Denoting the most expensive or elaborated of a range of products.
Low-end Products = Products Less Sophisticated.
Denoting the less expensive or less elaborated on a range of products.
Be careful: do not misunderstand the concept of Low-end (low cost) with poor quality. Even a cheap shoe needs to be of excellent quality according.
2- PVC Laminate (PVC is the acronym for Polyvinyl Chloride)
Application: virtually, in all pieces and upper parts of sports shoes.
Due to its low cost, it tends to be used in shoes of lower prices (Low-end Products).
The use of PVC has been systematically reduced in sport's shoes worldwide, in particular, due to the use of Phthalates in its compositions.
3- TPU Laminate
Application: virtually, in all parts and upper parts of sports shoes. But it is often used for overlapping pieces and to decorate the upper of the shoes, due to its cost compared to PVC or regular PU.
Sustainability Tip: TPU is recyclable and highly appreciated by brands that invest in sustainable actions, as it allows its reuse at the end of the chain. For example, a shoe entirely made of TPU can be totally recycled after use.
 4- Fabric
Application = all parts and pieces of shoe upper.
There are several types of fabrics, there are countless versions and raw materials involved, from Natural to Synthetic Fibers. The most commonly used are Polyamide, Polyester, and Nylon. But we also see Lycra, Cotton, and Wool being used in decent volumes.
Engineering Tip:
Save Money, Time, Resources, and a lot of headaches learning more about Fabric, Mesh, Knit, etc. In my opinion for product developers, designers, and technical and industrial professionals it is MUST for them to understand better what is a Fabric, a Mesh, a non-woven, a Knit, Natural, and Synthetic Fiber, etc., and the difference between all of them.
Each material has its own behavior regarding the way they stretch, tear, support, perform, stain, dye, etc. and that is crucial for the final product and consumer satisfaction.
A lot of shoes would be easier to be produced, and a lot of pairs would be saved from claiming lists and returns if the footwear professionals knew better each material's behavior. The appropriate usage and application of each textile material on uppers is crucial for saving a lot of resources.
5- Nonwoven Fabric
Nonwoven Fabric is a material similar to the fabric but obtained through an alloy (composite, mixture) of natural and synthetic fibers, randomly arranged, and joined by heat or pressure.
Application: in general, for linings, internal parts, and upper coverings. Although it is used on the outside of sports shoes upper, it is still not so common.
Curiosity: The fabric, in this case, as we saw above, refers to the structure and not to the material. Nonwoven is a "fabric" that was not "woven". In other words, it is a structure that has no Weft and Warp, or it was not knitted and/or interwoven like a knit.
6- Mesh & Knit / Knitting
Each of the rings, knots, and loops of a textile thread intertwine to form a flexible and elastic fabric. Application: all over the upper. Curiosity: Knit or Knitting is nothing more than a Mesh.
During the last couple of years, Knit Uppers have taken Sports Shoes by storm. The main benefit of a knit upper is that the material is very flexible and stretches to fit your foot for a sock-like feel with no break-in period. Knit uppers are also lightweight and breathable.
7- Leather
A shortlist of leathers most used in the footwear industry includes:
Aniline leather
Semi-aniline leather
Nu-buck leather
Suede leather
Pigmented leather
Full-grain pigmented leather
Top-grain leather
Corrected-grain leather
Oiled leather
Notice that combinations of leather finishing processes can vary and add up. For example, you can sand, stamp, pigment, and cover a certain article all at once to get the finishing and look you want.
But we will see this later because talking about leather demands a separate chapter.
Few examples of what we will see in the exclusive leather article:
Aniline leather = Aniline leather is the most natural-looking leather. The unique surface characteristics of the animal hide remain visible.
Although this is still a good market, leather has been losing ground in the footwear sector due to the following factors:
– Evolution of other raw materials and compounds.
– Consumer Behavior Issues (e.g., Veganism)
– Value for Money for the Consumer
OUTSOLE & MIDSOLE MATERIALS
8- EVA = IS THE ACRONYM FOR ETHYLENE-VINYL ACETATE
9- PVC = IS THE ACRONYM FOR POLYVINYL CHLORIDE
10- TPU = IS THE ACRONYM FOR THERMOPLASTIC POLYURETHANE
11- E-TPU = EXPANDED THERMOPLASTIC POLYURETHANE
12- PU = POLYURETHANE BOTTOMS.
13- RUBBER = RUBBER
14- TPR = THERMOPLASTIC RUBBER
8- EVA = is the acronym for Ethylene-Vinyl Acetate
Application: Outsoles, Midsoles, and Insoles. Benefits are many: lightweight, flexible, good grip, moldable, can come in several colors, and textures, and easy to be processed during manufacture.
Notice that EVA, in general terms, has three main ways to be manufactured and used in the shoe industry for soles and midsoles:
EVA in Sheets – EVA in Sheets or Plates, usually for low-cost products.
Thermo Molded or Compression-molded EVA – the focus here is to improve laminate EVA by molding it according to the desired sole or midsole design.
EVA Injection Molded – generally used in high-quality products. Some manufacturers market Injected EVA, used in the manufacture of running shoes, such as Phylon.
9- PVC = is the acronym for Polyvinyl Chloride
Application: We have Rigid, Flexible, Micronized, Expanded PVC as the most used in the Footwear Sector. There are many possible variations so that they can meet the specific types of shoes to be produced. PVC is widely applied to midsoles and outsoles due to the versatility of injections in the most diverse formats, thicknesses, weights, textures, etc.
Few other applications of PVC on Footwear Outsoles are Wedges, Sandal Innersoles and Outsoles. All sorts of Dress, Casual, and Sportive Shoes Midsoles, and Outsoles. Once again, the setback about PVC is the usage of Phthalates in its compositions. Still, PVC is extensively used in the footwear industry globally.
10- TPU = is the acronym for Thermoplastic Polyurethane
Its use is very wide in the applications of soles and midsoles. One of the great advantages of TPU is that it is a product that increases the life cycle of products (Products Life Cycle), as it is a thermoplastic compound. That means that after the TPU sole part is injected, it can be once melted again and reused to make a new sole.
Curiosity: Regular PU, EVA, and Rubber cannot be recycled, at least, not without losing their performance regarding flexibility, hardness, abrasion, etc. So, TPU is a fine and unique compound regarding recyclability, sustainability, life cycle, and circular economy. The setback you must be thinking: its cost is higher than the PU, EVA, PVC, etc.
The advantage of being a Thermoplastics Compound (TPU case): it can be softened and melted for several cycles, still preserving most of its properties, characteristics, and performance. That is an advantage compared to other compounds for Outsoles and Midsoles.
E.g., Thermosets Compounds are polymers whose rigidity does not change with temperature. Furthermore, at certain temperatures, thermoset polymers decompose and degrade, and cannot be melted and remolded again. Examples of thermosets that increase the life cycle of shoes are PU, EVA, Rubber, PVC, etc.
Curiosity: PVC, of course, can be recycled by using from 5% to 15% of old PVC parts included in a new batch of virgin PVC compounds. But adding only 5% to 15% of Old PVC to the formula means losing the performance of the final product. On the other hand, TPU can be 100% recycled and only lose about 5% of performance when compared to the virgin TPU formula.
I know it's a soup of % but shows how good TPU is when compared to other compounds regarding the Circular Economy.
11- E-TPU = Expanded Thermoplastic Polyurethane
Application: Outsole, Midsole, Insoles, and several other footwear applications.
Expanded Thermoplastic Polyurethane, in short E-TPU, is manufactured by expanded TPU granules, which is similar to the EPP foaming process. The E-TPU granules are pre-treated with high pressure, and heat. With specialized (injection) molding machines, E-TPU cell foams can be molded into the most varied shapes, and textures.
The main features of E-TPU are Lightweight, Shock Impact Absorption, Durability, Softness, and Resilience. Quick info: adidas® Boost Technology for adidas® outsoles is manufactured using E-TPU as Raw Material.
12- PU = Polyurethane Bottoms
PU is Durable, Comfortable, and Affordable. Polyurethane soles allow designers to achieve all of these goals. They are Practical, Waterproof, and have Excellent Long-term Mechanical Properties. PU is not much used in the outsoles of high-performance sports shoes as they tend to be heavier and less flexible than EVA, and other Foam-Types-Compounds.
13- Rubber
The most used Synthetic Rubber in the manufacture of components (Midsoles, Outsoles) for footwear are as follows:
SBR = Styrene-butadiene Rubber
IR = Polyisoprene Rubber
BR = Polybutadiene Rubber
CR = Polychloroprene Rubber
NBR = Acrylonitrile-butadiene Rubber
HNBR = Hydrogenated Nitrile Rubber
XNBR = Carboxylate Nitrile Rubber
Other less common applications, but present in footwear are Heel Lifts, Upper Ornamentation, Welts, Innersoles, and Sock Linings.
Rubbers are divided into two groups based on their origin: natural rubber and synthetic rubber.
Curiosity: We also have Natural Rubber, where Crepe is perhaps the most well-known type in the footwear sector. Due to the extraction process, industrialization processes, and other aspects of the rubber chain Synthetic Rubber is cheaper than Natural Rubber.
Rubber's elasticity (Elastomeric Property) makes it a popular material. Vulcanized natural rubber is used to make a variety of items. Natural rubber's best feature is that it is biodegradable and renewable because it is extracted from trees. Besides shoes, thousands of items, including surgical gloves, medical gadgets, aircraft and vehicle tires, mattresses, shoe soles, rubber boots, toys, and more, rely on it as basic material.
An ELASTOMER is a material with the mechanical property of bending far more elastically under stress than most materials while still returning to its original size without permanent distortion. In many circumstances, synthetic rubber can be used in place of natural rubber, especially where better material qualities are required.
14– TPR = Thermoplastic Rubber
Thermoplastic Rubber (TPR or TR) is used extensively in the footwear sector to produce various types of soles, shoe platforms, wooden soles, and rubber boots.
The main advantages of TPR are:
Easy and Economic Processing
Excellent Value for Money
Great Aesthetic Versatility
Recyclability
Curiosity: even with all these advantages still the TPR (TR, TPE) ends up not being the natural substitute for Synthetic Rubber, especially for High-Performance Shoes due to its low resistance to abrasion when compared to Synthetic Rubber; Being Reticulated Synthetic Rubber resistance is much higher than TPR.
The TPR is commonly used in SOCIAL AND CASUAL FOOTWEAR with low demand for performance and to meet the low-cost demand (Low-end Products). Kid's shoes use that a lot as, usually, this type of shoe has a short lifecycle and does not require a long-lasting outsole compound.
In a few days, this article will be available in Portugues & English