M2000 – The Sneaker That Made Us Dream in the '90s.
The 90s opened a window of creativity for new styles, products, and colors of shoes in Brazil. If Bamba, Kichute, and Conga were the faces of the tennis styles of the 70s and 80s, we can say that the M2000 was one of the faces of the last decade of the 20th century. In this article, we will visit the 90s through the lens of this unique style of shoes that revolutionized the concept and use of tennis in Brazil.
Caso queira ler o artigo em português:
We, shoe designer Andre Santos and I are working collaboratively to bring back some classic styles from the past few decades, and the M2000 is a natural choice, as it marked many of us who live and experience all the cultural changes of the 90s. Here we go then …
Se você quiser ler o artigo em português basta CLICAR AQUI 
Propulsion System Technology – Features and Benefits
The M2000 Propulsion was a fantastic shoe, created in the late 80s / early 90s in Brazil and sold millions of pairs. This futuristic-looking sneaker was an incredible shoe, whose padded collar was removable, making it really special. Besides, he had a pyramid-shaped insert on the sole an innovative and exclusive system called Propulsion.
When the Fábrica de Calçados Martiniano de Franca launched the M2000 Product Line in 1989, they were remodeling the way sneakers were developed, produced, and marketed in Brazil. A successful product launched was the M2000 Propulsion, which brought to the footwear market a revolution concerning the sole cushioning system. According to the advertising campaign, it was a revolution due to the pyramid shape and the composite material of the structure and parts of the damping system. They claimed it was a shock absorber and an energy boost system.
Looking at all the photos available on the web, and based on what I remember, my best guess is that the pyramidal piece of the sole was made of Thermoformed EVA Sheets and inserted right in the middle of the sole in the heel area. For the record: inserting a piece of EVA in the heel area can bring some level of cushioning, but I do not see how this system could offer all the benefits communicated by the creator of the M2000 Propulsion. But the most important thing is that they were successful in the market with a great campaign and a well-communicated benefit!
Footwear Terminologies Related to This Topic
Sports Shoes have an incredible variety of nomenclatures, depending on where you are on our planet. Some are unique, and highly creative and others are common names that reflect their end use. Until now, I had never written about this topic, but the time has come inspired by the M2000. But remember, there is no right or wrong about the precise definition of each nomenclature. Let's look at some examples.
Sneakers – The story goes that in 1800, a London policeman developed a shoe with a rubber sole to capture criminals in silence. He called his invention the Sneaker. The name is derived from the fact that the rubber soles of the shoes made them silent, and in English Sneak means acting in a sneaky (silent) way, unofficially or without notice. In other words, the tennis guy was "Sneaky". True or not, it makes sense and gives some clue as to the origin of this terminology.
Sports Shoes – is a generic name for a shoe designed for sports activities.
Training Shoes – a shoe designed to be used for athletic training.
Running Shoes – a lightweight shoe designed for use by runners. Running shoes need cushioning in the forefoot and heel to absorb about four times your body weight per step.
Athletic Shoes (Footwear, Athletic Shoes) – is a generic name for a shoe designed for sports activities. They were originally more focused on sports, but today they are used much more widely as casual shoes.
Soccer Shoes, Soccer Boots, Cleats (footwear) – footwear used for soccer practice.
Tennis Shoes – a shoe developed and suitable for playing tennis. It varies according to the floor of the court: hard court or clay court.
Tracking Shoe (Footwear, Track Shoes) – a type of shoe with fees and, besides, a more formed heel so that you can run with your entire foot. Of course, any sports shoe is used for tracking, depending on the level of demand of the trail.
Hiking Boots (Footwear, Hiking Shoes) – a type of strong boot that covers the foot and ankle, designed for long walks in the countryside.
Gym Shoes (Shoes, Gym Shoes) – these are shoes designed mainly for sports or other forms of physical exercise, but nowadays they are also widely used for daily and casual use.
As we can see, the list would be even longer, but I tried to list the most used ones. Other names would be Gym Boots (Footwear, Gymnastics Shoes), Joggers Shoes (Footwear, Walking Shoes or Light Running Shoes), Trainers Shoes (Footwear, Training Shoes), Canvers (Sports Shoes Made of Canvas), etc.
Curiosities: In Brazil we call the Tennis all Sports Shoes Styles, because the first sports shoes that came to Brazil, were "tennis shoes".
Well, it's time to explore the technologies of the M2000 Propulsion system
1- Nubuck Leather
M2000 was produced in several Upper Materials, such as Natural and Synthetic Leathers, PVC Laminate, Several Types of Meshes, Fabrics, etc. One thing I remember about PVC laminate in the 90s is that it was not as flexible as it is today. In 1990, most PVC laminated uppers, after a few months of wearing shoes, used Break or Tear, especially on Flexing Area. Obviously, synthetic laminates have evolved and significantly improved their performance, as we will see in the next item.
Footwear Terminologies Related to This Topic
Natural Leather – there is a buzz, at least in Brazil, about the use of real skins in the manufacture of shoes since vegans and supporters are against it. On the other hand, the Brazilian Leather Association is promoting the fact that, if leather hides are not used in the manufacture of products, the hides would have to be Dumped in Landfills. I am not mentioning this because of the discussion about eating meat or not, but just for Marketing Reasons.
It will be remarkably interesting to follow the next chapters of this discussion and see how it unfolds. Especially, shoe factories that produce leather shoes will tend to be highly impacted by the result of this market trend.
Synthetic or Imitation Leather – In Brazil, there is a law that prohibits applying synthetic laminate to the nomenclature of "synthetic leather". Therefore, if you do business with the sale of synthetic laminates in Brazil, avoid this nomenclature in your product portfolio. Use only the Synthetic Laminate nomenclature.
2- Soft Skin Leather
In fact, Soft Skin Leather is a giant umbrella for various types of soft leather. Some types of leather adopted by the category are: Calfskin, Kidskin, Aniline Leather, Pigmented Leather, Full-grain pigmented leather, Top-grain Leather, and several others.
Is Real Leather better the Imitation Leather?
I dare say that genuine leather, and synthetic leather or imitation leather, currently perform similarly concerning Strength, Flexibility, Wearability, Breathability, and all the other features necessary for the footwear industry and requirements performance of consumers in general.
I also dare to say that, in some cases, synthetic leather is even better when compared to real leather. But, of course, it is a question of what kind of shoe design and market proposal to decide in which direction to go.
By the way, in 2014, an Investor Group developed and launched the New Collection of M2000, Real and Imitation Leather were used as materials in the leather. In summary, all Footwear Global Tier 1 Brands in the world use real and synthetic leathers in their products, and even sophisticated and luxury products do the same. Some companies market their products as Real Leather to make them memorable and sophisticated, while other companies market their products as Highly advanced Synthetic Textiles for the same reasons.
Therefore, it all depends on the quality of the materials and how the company/brand wants to communicate it to determine whether its shoe collections have a low-end or high-end market strategy. Clearly, it is possible to market your products in both directions, regardless of whether you use Genuine or Synthetic Leather.
3- Rubberized Piece with Logo
The Rubber or Rubberized nomenclature is a generic nomenclature applied to several other compounds and blends as Look and Feel as the Real Rubber Material due to the feel of the rubber surface and because they are as flexible as rubber. But many parts are not necessarily made of real rubber compounds. It would be better to call them Elastomers Pieces or Parts, but I also agree that it would sound very technical or chemical and would not cover all types of compounds applied to shoe uppers and finishing pieces.
Footwear Terminologies Related to This Topic
Elastomers – a natural or synthetic polymer with elastic properties. The word elastomer is from the term "elastic polymer". Elastomer is a Rubbery Material composed of molecules or polymers similar to long chains that have the ability to return to their original shape after being stretched, even over long stretches.
The most commonly used compounds in shoe uppers that look like rubber are Polyurethane – PU, Thermoplastic Polyurethane – TPU, Polyvinyl Chloride – PVC, of course, Synthetic and Natural Rubber.
4- Rubberized Piece (Velcro Function)
Did you know that velcro, a type of fabric fastener, was inspired by nature? In 1940, the Swiss inventor George de Mestral was walking his dog when he noticed the interesting shape of the Cockleburs that adhered to the fabric of his pants. The Cockleburs that the inventor found grew up in a series of natural forms of Hooks that could adhere to animals or people who passed by them.
Footwear Terminologies Related to This Topic
Velcro Invention (1940), by the Swiss George de Mestral.
Velcro Raw Material – is made of Nylon.
Nylon Raw Material – Nylon is a generic name for a family of synthetic polymers, based on aliphatic or semi-aromatic polyamides.
Nylon Invention – Although nylon was first synthesized in a DuPont Chemicals laboratory on February 28, 1935, it was only available to the public until 1940.
5- Cotton Shoelace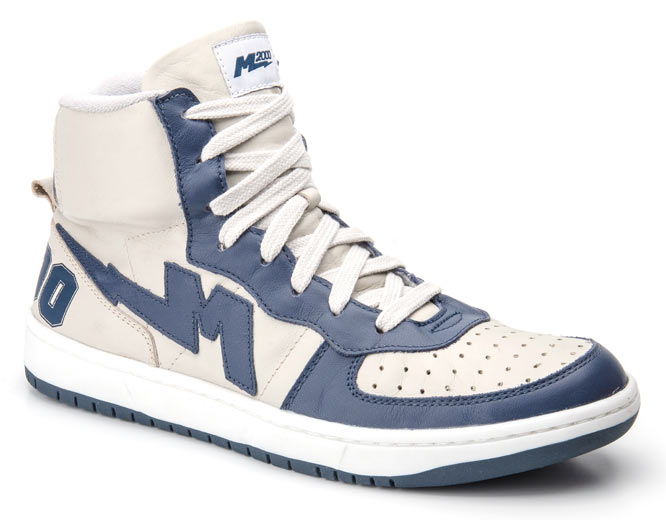 The variety of materials used in shoelaces is quite wide. In general, for sports shoes, as is the case with the M2000, Polyester is the most used. But we think that for the first generation of the M2000 in late 1980, Cotton Laces or even a mixture of Cotton with Synthetic Fiber Yarns was used to reinforce them.
Clearly, the M2000 sneakers used Shoelaces and Adjustable Velcro Rubberized Straps to promote a better fit when wearing them. Certainly, it also has more than functional aspects and, without a doubt, they have improved the design of this unique shoe style with this combination of Footwear Closures and Fasteners.
6- Binding
As mentioned in the Kichute article, Debrum is particularly useful as an alternative to Edges Finishing. If you want to learn a little more about edge finishing, I suggest taking a look at the last article: Kichute – Put This Power On!
7- Rubberized Insert with Logo
Certainly, the M2000 had a logo that distinguished it and differentiated it from other brands. It is still vivid in our minds today and only by looking at M with the Lightning Ray did we travel back to the 90s. I think the M2000's creator had great insight when he developed the Brand Logo.
Why M2000? I have a few guesses, and here they are…
I don't really know the meaning of the "M" and I still haven't found it on the web, but since the name of the company was Martiniano, I'm assuming that the "M" came from him. I also don't know why 2.000, but as they were in the 90s, I also assume that using the number 2.000, the intention was to design Future Ahead and show how futuristic their products were.
I suppose Lightning Ray should mean Speed, Movement, Agility) Evolution and all the other possible meanings around this Energetic and Powerful Symbol.
8- Removeable Ankle Piece
This was a great feature of this shoe because by removing this part of the upper, end-users could customize and adapt their shoes to different conditions of use and climate. Customers can go from High Topline Boot-Type-Sneaker to Low Heel or Regular Sneaker.
Curiosity about the Development of M2000 vs. Le Coq Sportif Inspiration:
According to a friend in the shoe market and a quick survey I did on the web, it appears that the M2000 Collection, developed in 1989, was inspired by Le Coq Sportif products from late 1980.
Well, I suggest you do your own research on the web and decide for yourself, but I passionately believe that the M2000 was inspired by the Le Coq Sportif models. Take a look at the left picture of the Le Coq Sportif Columbia Hi of 1990 and decide for yourself.
9- PVC Lace Tab
PVC is one of the most used materials in the lace of the laces, other options are polyurethane PU, Metal Alloy, leather, etc.
Footwear Terminologies Related to This Topic
Tab – a small flap or strip of material attached or projected from something, used to hold, or manipulate it or for identification and information.
10- Foam Pad and Cushion Parts
The Creator of the M2000 Propulsion used and abused the upholstered (cushioned) parts in this model which is probably totally related to the fact that the company wanted to promote it as a soft, comfortable product, Ankle Protective, Impact Absorber, and Energy Booster.
Footwear Terminologies Related to This Topic:
Foam – The most used compounds in the shoe industry are PU, Latex, and EVA Foams.
Pad, Padding – fill or upholster (something) with a soft material to obtain a specific shape, protect its contents, or make it more comfortable.
The M2000 Dream Came to an End in 1997
Unfortunately, according to a newspaper from Franca – SP in 1997, the Martiniano footwear industry closed its doors. Apparently, due to a financial crisis. It's a shame, but it's more common than we usually think about companies that are suddenly successful on the market, in particular, with the successful and meteoric product launch, as was the case with the M2000 Collection.
Certainly, there are many reasons for a company to close its doors, but growing very quickly and in a short time, however paradoxical it may be, puts the company under extreme pressure, and the demand for a very high-speed learning curve can take it to meet the stones.
Happily, for us, Consumers M2000 has been part of our '90s and those memories will be with us for as long as we live!
Fonte: pesquisas na web.