According to BASF, Infinergy® is the World's Leading High-Performance Responsive Material.
With Infinergy® the company seeks to help revolutionaries and entrepreneurs move forward, enabling professionals to move like athletes while wearing safety shoes, children to play more safely, and athletes to perform at their best.
The company reiterates that Infinergy® offers superior energy return while offering a lightweight, high-strength alternative; and that Infinergy® adds superior flexibility and flexibility in a variety of applications from footwear to athletic flooring. Let's see what else this product can do for the footwear market, according to BASF.
How can Infinergy benefit you?
Infinergy® in the " Boost" from adidas
The German sports equipment manufacturer adidas uses Infinergy® in its innovative "Energy Boost" running shoe. As the material used in the midsole, Infinergy® makes the shoe comfortable to wear and delivers excellent running properties.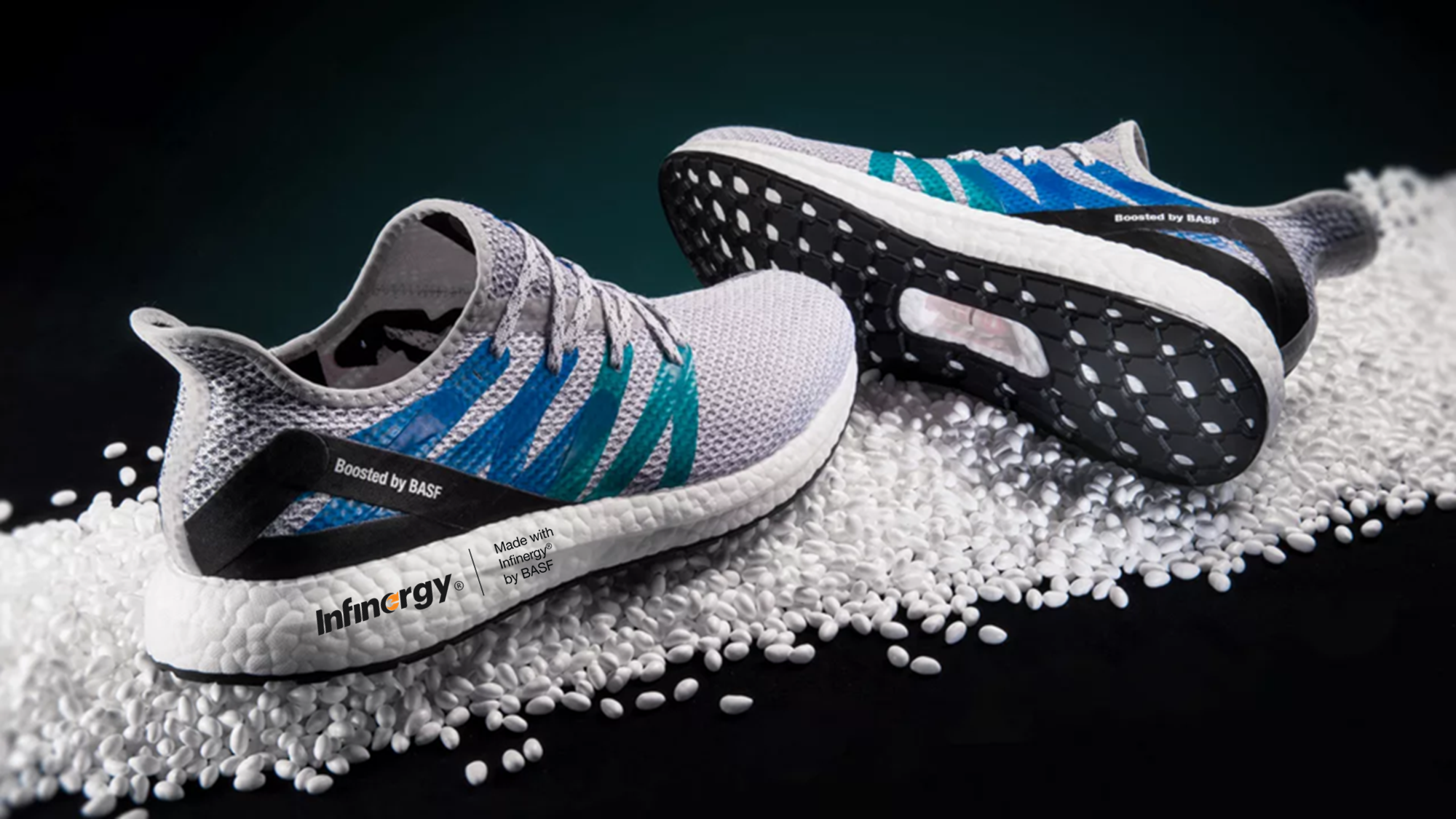 The sole springs back into its original shape immediately after impact: thanks to this high rebound effect resulting from the resilience of the material, runners use up less energy than they did before.
As Infinergy® withstands temperatures of between -20°C (-4°F) and over +40°C (+104°F) without changing its functional properties, the adidas shoe can be used at any temperature – whether in winter or in summer.
Another advantage highlighted by the shoe manufacturer is the great long-term durability of the material which, just like the other properties, is significantly better than that of conventional midsole materials.
Applications
Enabling dress shoes that move like sneakers
Dress shoes can feel as good as they look, thanks to the hidden power of Infinergy®. When used as a lightweight sole core, Infinergy® adds greater flexibility and athlete-approved energy return, so wearers can go from boardroom to bar in all-day comfort.
Empowering workers to move like athletes
With well-cushioned feet, it's easier to go the extra mile. Infinergy® can be used as a wear-resistant midsole in safety and occupational shoes, providing athlete-approved energy return while readily absorbing the impact of heavy loads. Infinergy®'s comfort compression technology also helps reduce fatigue for reliable all-day wear.
Empowering athletes to reach peak performance
Infinergy®'s rebound and responsiveness help elite athletes achieve peak performance. Whether in summer or winter, it responds reliably to every move, so athletes can train under highly consistent conditions with a lower risk of injury.
As Infinergy® does not contain heavy metals or require solvents for installation, it fully meets stringent safety and environmental standards. Once installed, its durability makes it easy to maintain.
Empowering people to run more with less impact
Not only does an Infinergy® treadmill deck return more energy to the body, but it can also dampen noise so runners can enjoy a neighbor-friendly, productive workout inside their apartment. Regardless of running speed and style, Infinergy®'s resilience under dynamic loads can reduce stress on the joints of runners.
Empowering tennis players to get more from their game
When used in tennis rackets, Infinergy® produces greater rebound, faster ball speeds, and a smoother swing. Its vibration-damping membrane also enhances wrist stability for players, lowering the risk of injury even with a more powerful game.
Infinergy Comfort
Our series of Infinergy insoles are our range of performance formulations with the highest rebound that fulfills both performance and comfort.
Properties
Like its base material TPU, Infinergy® is noted for having a high elongation at break, high tensile strength, and strong abrasion resistance. In addition, the innovative particle foam remains highly elastic and soft over a wide temperature range. It is also made out of material that has good chemical resistance.
The feature of Infinergy®'s that is particularly striking is its high resilience.
Tests of its resilience elasticity under ISO 8307 (the ball rebound test) show thatInfinergy® achieves a rebound of over 57%. This is therefore significantly higher than comparable particle foams such as expanded polypropylene (EPP) at 30%, ethylene-vinyl acetate (EVA) at 37%, or expanded polyethylene (EPE) at 50%. Infinergy® maintains its excellent resilience even under a continuous load.
Measuring the rebound according to DIN 53512 (using a defined pendulum hammer), a rebound value of at least 57 to 75% is achieved. Dynamic mechanical analysis has shown that even at extremely low temperatures of -20°C (-4°F), Infinergy® still has a low dynamic modulus, is very soft and stretchy, and thus does not go stiff.
Processing
Infinergy® 32-100 U10 is processed on the usual commercial steam chest molding machines designed for a minimum steam chamber pressure of 5 bar.
Steam pressures are typically 0.6 – 2.2bar, depending on the Infinergy grade as well as part geometry and density. Infinergy® 32-100 U10 is processed by either crack filling or pressure filling, so part densities of 200kg/m3 to about 300kg/m3 are achievable depending on the degree of packing. Infinergy can also be processed by molding technologies not using steam e.g. high frequency and variotherm molding.
In addition, because polyurethane binders adhere so well to Infinergy®, processing techniques such as gluing and foam sealing of the beads enable large-scale processing of Infinergy®.
Converters can process panels made from Infinergy® on conventional splitting machines, punches, and water jet cutting machines.
Environment and Recycling
Infinergy® is compliant with the RoHS directive and does not have to be labeled under dangerous goods regulations.
Information on other regulations, e. g. GADSL will be provided on request.
Infinergy is also recyclable.
Source: BASF
Important: BASF's International website has more information about Infinergy® technology, its applications, its benefits, its performance in the most varied types of footwear, the recommended grades of the product for each application, and much more.
I tried to clip the parts that I understand to be the most relevant for the Footwear Sector, and that helps whoever is accessing this information for the first time, and who is not necessarily an expert in the use and processing of compounds (E – TPU).
In other words, I tried to take a "less chemical" and more "technical-footwear" look, after all, I imagine that readers want to understand the benefits of shoes and their end-products.
Read this Article in Portuguese
Infinergy® da BASF | o Primeiro Poliuretano Termoplástico Expandido (E-TPU) do Mundo