Bamba Cabeção – Bamba Big Head
Bamba is a word with several meanings. It is popularly used in Brazil to designate a person who is an expert in a certain subject, someone particularly good at what she/he does. Bamba is a brave, courageous,  and determined individual, a Bambambã. If you are a Bambambã it means you are the expert, the real deal, the icing on the cake, the boss, a cool person, and a lot of other similar meanings!
A few examples are: "John is the Bambambã in Mathematics while Mary is the Bambambã in Chemistry. Rick is the Bambambã on the dance floor, and Heather is the Bambambã in running."
I don't really know if Alpargatas had that in mind while naming this sneaker Bamba in the '60s, but that would make a lot of sense. Conga, another successful sneaker developed by Alpargatas in the '60s, had an upper structure similar to Bamba, but the outsole of Conga was thinner and lighter than Bamba.
So, I really think that Alpargatas had named this footwear Bamba to highlight the features that set Bamba apart from Conga, even though both products are similar in terms of upper and outsole materials (Canvas + Vulcanized Rubber).
Summarizing: Conga for casual use and Bamba for adventures! The next article will be about Conga and then it will be easier to understand the difference between these two products' construction similarities and differences.
Why Bamba Was So Successful for Three Decades?
If you look at Bamba's Construction (upper and outsole) you will notice that this was a simple structure using Canvas Upper and Vulcanized outsole. So, why Bamba, among Conga and Kichute, were so successful for three decades? (the '60s, '70s, '80s, and part of the '90s also).
My better guess is that those shoe styles were truly connected to the consumer's major needs at that time. They had an affordable price, multipurpose (go to school, play around the house, go to the movies, hang around with your friends, play soccer, hiking, etc.).
Life was simple and easy and Bamba, Conga, and Kichute were the answer for that generation in Brazil. Three Models, Few Colors, Few Materials, Similar Prices, and Reasonable Prices. I think that when a Product Reaches that level of engagement with Consumer (Customers) demands and major needs the result is only one: Three Successful Footwear Models Developed By Alpargatas that marked three generations!
A Clever Market Strategy – The Three Stars were easy to be found in the Market
One could buy a pair of Bamba and his brothers, Conga and Kichute, at almost any sort of Retail Shop, Shoe Shops, Gas Stations, Supermarkets, Mini Markets, Tire Shops, Bicycle Shops, Groceries, you name it.
Nowadays that market strategy would be called a "road to failure" market strategy for any type of footwear. But, at that time it was the perfect strategy as the purchasing decision was quite simple, while a father was buying a shovel at the hardware store the idea of buying a shoe for his son/daughter could pop up in his mind. So, the product was at hand.
All that he needs to know was his son/daughter's age and/or shoe size, as the style and color decision was quite easy to be taken: Blue, Black, or White Upper Canvas.
On the other hand, we, as a child, or even a teenager, had only one expectation, which was "to have a pair of sneakers to lay with our friends", and that was it. We had only three sneakers styles to choose from in the '70s (Conga, Bamba, and Kichute), and had only a few footwear types as options at that time: going barefoot, wearing flip-flops, casual or dress shoes, or those sneakers. If you have only a few options, the decision is amazingly simple!
My point is, that Alpargatas had captured the essence of what young consumers needed to be happy and pleased about the footwear they were wearing back there. This way their bonus was quite big, and they sold millions of pairs of those three starts over 3.5 decades. I wonder if there is a Museum at Alpargatas for these big starts, I think they deserve it, and I would like to visit it and pay my tribute to them… I was amazingly happy using Conga, Bamba, and Kichute in the good old days!
Let's Visit Footwear Floor – Where The Manufacturing Magic Happens
In the Kichute article we went over the Upper and Outsole Materials and Technical Shoes Aspects, at M2000 we have learned about footwear terminologies, at the Reebok article we have seen a little bit of the brand story, and at Melissa, we have seen some interesting facts about Melissa Aranha Quadrada and technologies embedded.
Well, the journey is progressing, and now it's time to go over a few footwear words related to the Footwear Factory Floor. After the product design, creation, and development, it is time to produce it (to manufacture). A lot of hard work is required to bring millions of pairs into life and millions of people and families around the world are fully dedicated to cutting, stitching, cementing, bonding, lasting, assembling, and shipping shoes to delight consumers (us) in the footwear retail market. Now we are going to see some industrial terminologies directly from the production floor, that is where the Magic Also Happens.
Footwear Factory = Fábrica de Calçados
Footwear Industry = Indústria Calçadista
Shoemaking = Fabricação de Sapatos
Automation Technology = Tecnologia de Automação
Footwear Industry Automation = Automação para Indústria de Calçados, Calçadista
Footwear OEM – Original Equipment Manufacturer = Fabricante de Calçados
Innovative Footwear Manufacturing Techniques = Técnicas Inovadoras de Fabricação de Calçados
Production Paving, Building = Pavilhão de Produção, Prédio
Purchasing Department = Departamento de Compras
Paper Pattern Department = Departamento de Modelagem Técnica
Warehouse = Almoxarifado
Manufacture / Manufacturing = Fabricação
Manufacturing Process = Processo de Fabricação, Fabril
Production / Manufacturing Machinery = Máquinas para Produção / Fabricação
Making Room = Departamento de Produção, Seção de Fabricação
Making / Manufacturing Line = Linha de Fabricação / Manufatura
Cutting Room = Seção de Corte
Closing Room = Seção de Costura
Stitching Room = Seção de Costura
Silkscreen Application = Aplicação de Serigrafia
High Frequency Welting System = Sistema de Soldagem por Alta Frequência
Inserting, Attaching, Setting or Filling        = Inserção, Fixação, Preenchimento e seu Resultado Final
Assembly Line = Linha de Montagem
Heel and Toe Sitting / Lasting = Montagem do Traseiro e do Bico
Outsole Stock Fitting Room = Setor de Pré-Fabricado de Solados
Outsole Injection Process = Processo de Injeção do Solado
Outsole Attaching = Colagem / Apontamento do Solado
Heel Attaching = Fixação do Salto
Roughing Process = Processo de Lixação
Skiving and Beveling Process = Processo de Chanfração
Pressing Process = Processo de Prensagem
Cementing / Bonding Process = Processo de Colagem
Painting Room = Seção de Pintura
Inspecting, Cleaning and Dressing = Inspeção, Limpeza, e Finalização do Sapato
Cleaning Room = Seção de Limpeza
Finishing Room = Acabamento, (seção de)
Storage = Depósito para Armazenagem
Warehouse = Depósito, Armazém
Dispatch of Goods = Expedição de Mercadorias (Sapatos)
Shipment of Goods = Embarque de Mercadorias (Sapatos)
The New Bamba Generation Launched in 2000 Decade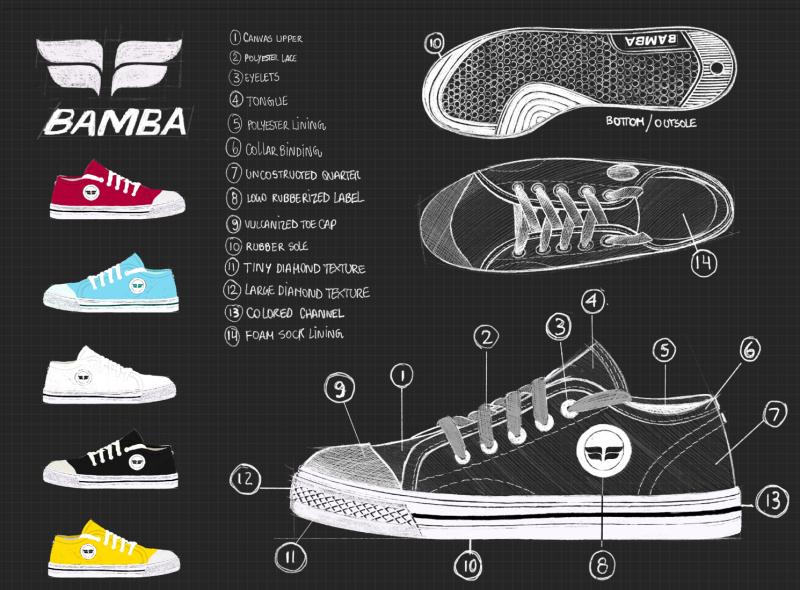 In the 2000s, they were relaunched in the Brazilian market with the same characteristics as 30 years ago, but with new colors and styles following the retro fashion trends