Reebok Freestyle Hi – The First Athletic Shoe Designed Especially For Girls
A Sneaker That Made Girls' Dreams Come True in the '80s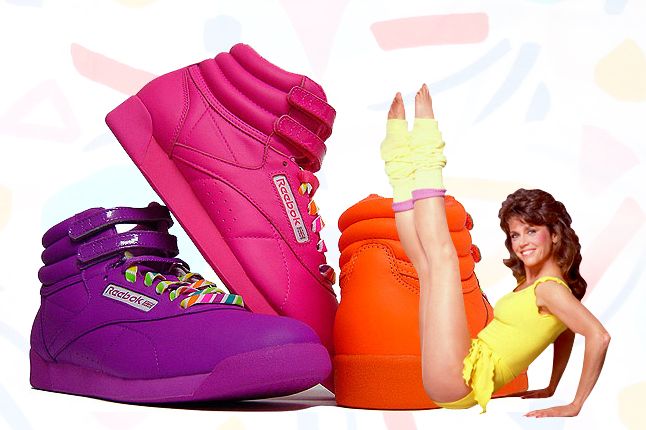 Well before Athleisure, and a true cross-over shoe. Reebok Freestyle was (is) the original lifestyle shoe that has been developed and launched capturing the '80s essence.
It was an Umbrella and the Repository of '80s Fashion, Lifestyle, Colorful Punk Fashion, Workout Fashion, Hair & Makeup, Big Shoulders, Bold Colors, Sequins, Ruffles, Off-the-Shoulder Tops and Dresses, Intense Eyeshadow… 
Girls, it's time to remember the Aerobics Classes, Gaiters, Lycra, Leotard, Colored Socks, Sequin & Lurex, High Waisted Pants, Aerobics Classes, Oversized Blazer, Wide Belts, Leggings. If you have experienced the '80s there is no way you haven't dressed most of the items on this list. Do you remember them? Yes, you do!
Reebok Freestyle Hi – Our Time Travel Machine for the 1980s
Sure, it was part of Girls' daily life, whether for Working, Leisure, Aerobic Classes, Going to School, or Just Hanging Around with your Friends and Mates. Girls were empowered by the '80s, and Sneakers like Reebok Freestyle were right there at the right time to make them feel free, powerful, liberate, and go after their dreams and goals.
The '80s were Maximalists and Fashion was all about excess.
Everything was big, bold, and utterly glamorous. During the day, ladies rocked power suits with big shoulder pads to prove that they were just as powerful as the gents.
By night, they got glammed up in sequin and one-shoulder styles. A love of brands and designer labels was also evident during the decade.
Towards the second half of the '80s punk looks started trending thanks to the celebrities of the day.
A Little Bit of Reebok Freestyle Story
Designed by Paul Brown. Developed and engineered by Steve Liggett. Mr. Martinez provided inspiration and product marketing energy.
Reebok Freestyle is an athletic shoe style introduced in 1982 by Reebok. The Freestyle was a sneaker designed by Paul Brown, developed, and engineered by Steve Liggett, and Mr. Martinez provided inspiration and product marketing energy. It helped Reebok into the mainstream athletic wear market and fashion scene along with becoming one of the most popular athletic shoes of all time. In 1984, the shoe accounted for more than half of Reebok sales. The Reebok Freestyle was popular during the 1980s aerobics craze and is still in production and remodeled through various collections and style variations.
Why Reebok?
Rhebok – a small South African antelope with a woolly brownish-gray coat, a long slender neck, and short straight horns. In 1958, in Bolton, two of the founder's grandsons, Joe and Jeff Foster, formed a companion company Reebok, having found the name in a South African dictionary won in a running race by Joe Foster as a boy. The name is Afrikaans for the Grey Rhebok, a type of African antelope. In short: today Reebok is an Adidas Company.
Let's give a zoom at Reebok Freestyle Hi to Understand Better The Technologies Embedded in This Original Lifestyle Shoe Sneaker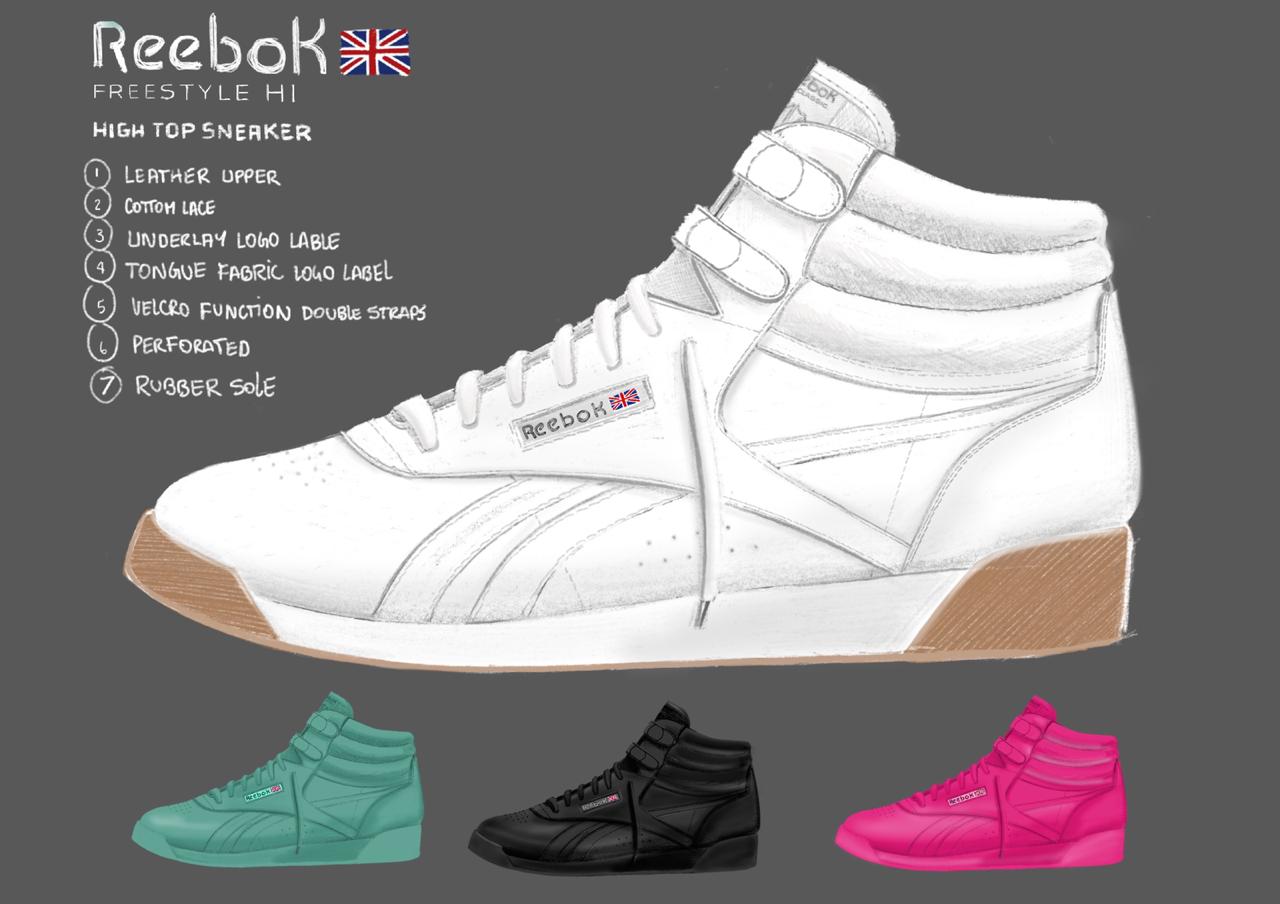 1- Leather Upper
Over the years several materials have been used on this style of Upper Material, such as Full Grain Leather, Nubuck Leather, PVC, PU Laminate (Synthetic Leather or Imitation Leather), Fabrics, and Meshes (on padded collar area). Most of them in Bold Colors to Empower the 1980's Girls (or to mirror their Power) and show up their attitudes in all daily life situations. Of course, in our minds, the Classic White, Off White, Black, Red, Pink, and other Solid Colors are pictured in there for good.
2- Cotton Lace
Besides Cotton laces, Polyamide was in play, and they used and abused of Textures, Colors, all mixed together to get the best of their look and to make each Reebok Freestyle stand out from the crowd. In the '80s excess ruled the streets and colorful Cotton, Polyamide, and both Mixed Together were a signal of how Girls wanted to behave and be noticed.
3- Underlay Logo Label
Reebok has captured in the 1980s the essence of Consumers' Behavior and has developed this Iconic Girls' Sneaker Style that under the Reebok Logo has delivered to Girls a product in line with their needs and feelings. Notice that the Logos on the Upper and Tongue were Subtle and Low Profiles, while the Upper, Lining, Midsole, and Outsole Materials reflected what was going under the surface.
This is the Essence of an Iconic Footwear: Capture Emotions and Translate Them Into a Tangible Product. The Silent and Quite a Logo were always there saying to customers: "Hey, I've got it, Girls".
Once I heard that the word Design could be translated in a single word MEANING / MEANINGFUL – in short: Materials, Colors, Compounds, Techniques, etc. all of them combined together in a clever and classic way that blows consumers' minds saying "We Have Got the Same Purpose". That alone is powerful and Meaningful enough to invite customers to purchase a pair of shoes that will make their dreams come true.
4- Tongue Fabric Logo Label
If you close your eyes and try to picture the tag and logo without looking at the Shoe Tongue again, tell me what you can remember about those questions. How many colors are there in the tag? How big is that? Is it square, a rectangle? What is the symbol that Reebok decided to use in the center of the tag? Is it stitched or cemented to the Tongue?
I doubt very much that you are able to remember all that rational information, I am right? So, what is the most important thing to remember about that tag? Once again, Bold Colors, Silkscreen Artworks, Ornaments, Metal Chains, etc. and a lot of other Props and Accessories have taken place standing out and capturing the essence of the Girls' Attitude of '80s Unique Sneaker.
 5- Velcro Fabric Double Straps
The padded collar with its smooths curves and shapes highlight that this Cross-over Shoe Model was developed, engineered, and produced for Girls and Women. So, the practical Double Straps backed with Velcro make customers' life easier as they can open and close the ankle padded pieces pretty quick and in a cool way.
The clear message Reebok is sending is that they have managed to read customers' minds and they knew that the premise behind the product's name should be in line with the shoe style – Really Deliver the Promise of Free Lifestyle.
6- Perforated Areas
There is nothing so distinctive about the Vamp Area and Quarter Areas Perforations. But, as even Real Leather tend not to breathe properly and eliminate moisture caused by the temperature of the customer's feet, the perforations are Technical Solution to offer even more comfort during the whole day in any situation.
7- Rubber Soles
The Rubber Outsole (Sole) offers a long-lasting outsole performance, high grip capacity, while the EVA Wedge Midsole reduces the total footwear weight and absorbs the step impact. Additionally, the combination of both materials, Rubber Outsole with EVA Wedge Midsole go well together enhancing the Outsole Unit Look (Bottom Look) combining the EVA Rough Texture with Rubber Silk Surface Finishing.
Of course, designers can play with both materials' colors combination.
So, What is the Real Deal About this Real Lifestyle Girls Shoe?
I think that it has been developed and launched capturing the '80s essence. The rest is history!